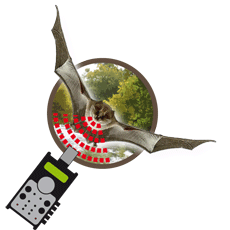 The first edition of "Acoustic Ecology of European Bats was released in late February 2012. The book includes 344 pages bound between hard covers ; the DVD contains 283 sound files (e. g. 66 heterodyned and 212 in time expansion x 10) and 9 Excel files for identification.
The print run of 1000 copies was sold out 10 months later in December 2012.
General warning :
The updates are deposited on this website in order to refresh the contents of a dense book, that explains a complex scientific method using a step-by-step approach. It is therefore vitally important not to separate the update files, from their context in the main text. This could lead to oversimplifications and misinterpretations in the methodology as well as in species identifications. All the files proposed can be freely downloaded ; but please do not forget to cite the source of the information in your work.
*****************************************************************
Text updates :
The updates are proposed as amendments (additional text to complete a given section) or corrections (text to replace a portion of the original text that was found to be inaccurate or incomplete, as a list in the "Modifications file" or as a separate file). The exact place of insertion of amendments and corrections in the book is always specified.
- Short corrections and addenda : « Edition1_Modifications-36_13mai2022 »
− Addendum to Chapter 5 « Applications ; Etudes d'habitats ». Title : Indices d'activité ; comptabilité des contacts ou occurrence des espèces ? « Addendum2c_12mai2012_Applications »
− Addendum to Chapter 3 « Signaux sonar de chiroptères : classification et interprétation ; Méthode d'analyse informatique ; Interprétation des types de structure des signaux ». Title : La courbure sigmoïde des signaux FM : un critère de diagnose spécifique ? « Edition1_Addendum1_12juillet2012_Sign-sonarclassif-interp,classif-interp »
− Addendum to Chapter 5 « Applications ; Etudes d'habitats ». Title : Un référentiel standard pour juger de l'abondance de l'activité de chasse des chiroptères : possibilités et limites. « Addendum2d_13novembre2013_Applications »
– « Edition3_Addendum1_janvier2019_P-kuhlii_signaux-sigmoides »
– « Edition3_Addendum2_fevrier2019_descrition-habitat_classification-especes »
− Fichier du DVD ; folder « SONS » ; sub-folder « 3_Expansion de temps x 10 ») : « Commentaires_séquences_expansion x 10_mars2019 »
Excel files updates (identification graphs) :
Updates are proposed as replacement graphs amended by new signal analyses or with correction of possible errors. The entire file is renewed and replaces the previous version.
see "4th edition updates"
New : a web version (signed Roland Jamault) to use the identification graphs: http://geoeco.fr/ecologie_acoustique/
Sound files updates :
Sound sequences (.wave standard) are proposed for downloading when helpful for clarification of amendments to the text. To download : on play page, click with the right mouse button then select "Save as".
DVD2 : Hétérodyne :
– « 43a_E-isabellinus_Andalousie_avril2013 »
– « 43b_E-isabellinus_Extremadure_mai2013 »
DVD3 : expansion de temps x 10 :
– « 037a_QFC_E-isabellinus_Extremadure_avril2010 »
– « 077a_FM-nasillarde_E-serotinus_ss-bois_Correze_aout2012 »
– « 077b_FM-nasillarde_E-serotinus_ss-bois_Correze_aout2012 »
– « 95a_B-barbastellus_alt-typeBfort_Creuse_juin2014©S-Giosa »
– « 154a_abs-ht_claq-bas_M-nattereri_Creuse_juin2013 »
– « 173a_abs-(ht)-moy_M-myotis_Correze_aout2012 »
– « 174a_claq-bas_abs-bas_M-nattereri_Alpes-Maritimes_juin2012 »
– « 166a_abs-am-moy_M-mystacinus_Puy-de-Dome_septembre2014 »
– « 192a_M-myotis_Creuse_juillet2014 »
– « 036a_QFC&FM-fausse-alt_V-murinus_Hte-Savoie_aout2018©JF-Desmet » (uploaded in Juanary 2019)
– « 173b_FMsigmoide_P-kuhlii_Correze_aout2017©J-Vittier » (uploaded in Juanary 2019)
– « 173c_FMsigmoide_P-kuhlii_Maine&Loire_juillet2015©L-Bellion » (uploaded in Juanary 2019)