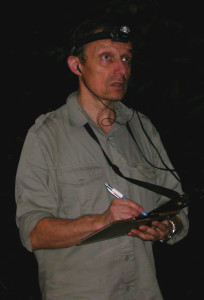 A keen naturalist since childhood in a yet preserved area of the French Massif Central, Michel Barataud is a biology and ecology enthusiast. From the age of 14 he has been involved in a number of regional and national naturalist's associations, and continues with unabated enterprise to pursue his research while at the same time leading initiatives in Nature conservation and the popularization of science. His main interest was at first in birds and insects before it turned to mammals and especially bats, which are since 1985 the main focus of his research activities.
(photograph by S. Giosa ; 2013)
His research programme on the bat sonar, initiated in 1988, involved thousands of hours of fieldwork and analyses, as well as contributions from fellow researchers (including Yves Tupinier), in particular from the very active 'bat' group of SFEPM (French Society for the Study and Protection of Mammals) in which several hundred bat workers share their experience. Alongside numerous scientific papers, studies reports, he published a first summary of his research on the acoustic identification of bat species in 1996 (« The Inaudible World », SITTELLE Editions).
In February 2012, the publishing departments of Biotope and the French Museum of Natural History joined forces to publish a more ambitious work (book + DVD) recapitulating all his findings on the acoustics of bat identification and ecology, The particularity of the method described is that it associates auditory analysis and computer-based acoustic analysis, while taking behavioural factors fully into account.
This naturalist's approach, is taught in France and elsewhere in Europe in training courses for simple nature lovers and professionals alike, Several dozens of such courses have been organised since 1995.
Since 2006, Michel Barataud's curiosity has led him beyond the borders of Europe to study the sonar and ecology of the bats of the French Antilles, de la Guyane, des Mascareignes et des Comores.
In 2009 , he started to collaborate with the ECHOBANK programme of the London Zoological Society, then on several international acoustic synthesis and field work.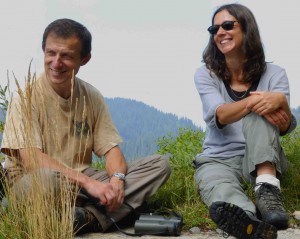 Michel Barataud's firm opinion is : that his naturalist's acoustic method must quickly leave the orbit of its original designer and become the public property of naturalists worldwide, His wish is that the method keeps on developing with continual coordinated input from its many current and future users.
Michel Barataud with Sylvie Giosa, a collaborator to the programme since 2000 (photograph by J.F. Desmet ; 2010).