SEE ANNOUCEMENT BELOW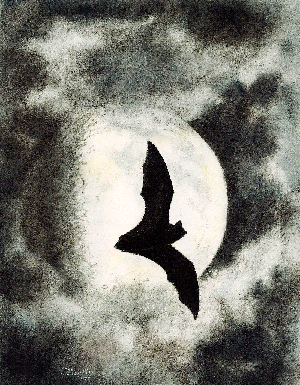 ACOUSTIC
ECOLOGY
of BATS
A naturalist's method
for the study of bats
using an
ultrasound detector :
– Bat species identification
– Study of bat behaviour in flight
– Bat diet and foraging ecology
– habitat studies
  " Noctule in front of moon" ;
Watercolour by Jean Chevallier.


Bats started to take a prominent place in fundamental research and habitat conservation several years ago.
Since 1980, ultrasound detectors have become increasingly popular for scientific studies and wildlife inventories.
A method reconciling the naturalist's approach with scientific rigour has been developed in France since the beginning of 1990. and is now practised by hundreds of 'bat detectives' all over Europe ; it is the focus of many publications, and of a recently-published book (with DVD included) that summarizes the fundamental concepts of the method and its applications.
The objective of this web site is to introduce the reader to the research underlying this method, and to provide users with regular updates from the author's and his collaborators' most recent findings in the field of acoustic identification.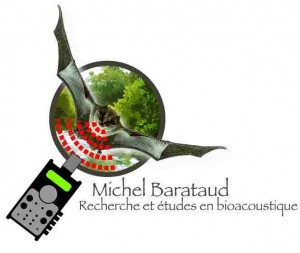 Graphic design : Philippe Grimonprez
IMPORTANT (for French version only) :
N'oubliez pas de vérifier si de nouveaux fichiers ont été déposés dans les sous-rubriques « Mises à jour » de l'onglet "Livre et DVD" (chacun peut aller dans l'onglet de mise à jour qui correspond à l'édition qu'il possède) :
– mises à jour de textes "Modifications file" and "Addenda"
– mises à jour de fichiers Excel "xls_identification"
– mises à jour de fichiers sons
NEW :
A web version (by Roland Jamault and Jean-François Godeau) to use the identification graphs : http://geoeco.fr/ecologie_acoustique/
STAGES NATIONAUX DE FORMATION A LA MÉTHODE ACOUSTIQUE NATURALISTE (bénévoles et professionnels) : (see "Training")
Course level 1 (auditory identification : heterodyne and time expansion) : période fin mai à fin juin.
Course level 2 (computer-based acoustic identification and study methods) : première quinzaine de septembre.
Course level 3 (identification of acoustic complexes: Myotis, Nyctalus/Eptesicus/Vespertilio, etc.) : 1 ère semaine de décembre, ou sur demande ; réservés aux personnes expérimentées, ayant déjà suivis les niveaux 1 and 2.
The trainees will be guided and supervised : Michel Barataud.
Pour tout renseignement :
CPIE Brenne-Berry,
35 rue Hersent Luzarche
36290 AZAY LE FERRON - FRANCE
Phone : 02 54 39 23 43
e-mail : alexandra-fleury@cpiebrenne.fr